Stadium DJ Live Features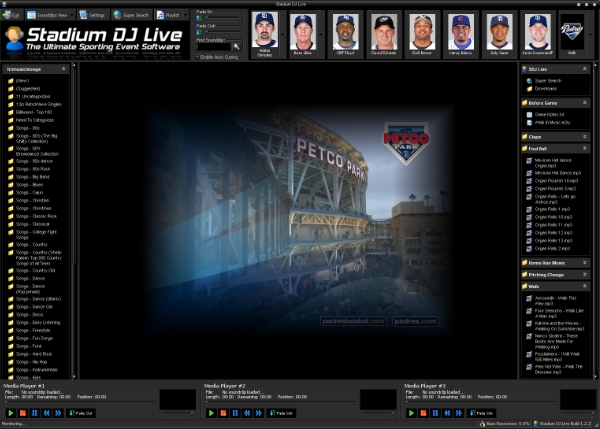 Playback Features
Media Player Control - Stadium DJ now gives you the ability to run three media players at the same time independantly. Easily queue songs to any of the players by right-clicking on the soundclip.
No Hassle Screen Setup - Since Stadium DJ creates folders and menus based on your computer's directory structure, all you have to do is create folders and copy your soundclips into the directory for instant access. Now all Custom, Quickclip/Player buttons, Playlist, Auto-Cues, and Already Played Lists are stored into your Profile Folder. To add a new song or clip, just copy the file into the appropriate folder.
Soundclip View - Choose between Button Mode, List mode for once touch access to your soundclips
New Custom View - Instant access to Folders and Playlist always available on the right hand side of the screen
Quickclip/Player Buttons - Cycle through a list of soundclips or assign a single soundclip to a button. Now supports pictures in 60x90 format (same standard player picture size as that espn.com uses for player profiles)
Multiple Profiles - Have more than one profile setup for a computer. For stadiums that are home to more than one team or sport. All settings are now stored independantly.
Auto Cue - Setup starting points for your songs/soundclips without having to chop up your original files. Auto Cue points are now saved in a Auto Cue directory in the Profile Folder so you can easily move them from one computer to another if needed.
Playlists - Once touch access to commonly used playlists. New ability to load all songs from a folder directly into playlist.
Quick Search - Search for songs/soundclips on your hard drive and easily add to playlist to load to media players directly from search results window. Now supports multiple search windows open at the same time.
Supports Multiple Soundcards - Use a secondary sound card to monitor and cue up soundclips while the main output is playing.
New Stadium DJ Live Features (require an internet connection)
Super Search Feature - Seach and Download Soundclips/Songs from Stadium DJ Website Directly to your computer
Live Song Request - Let your spectators may live song requests during your event and then receive instant notification when they are made
Live Song Posting - Let your spectators know what songs they are hearing and have to ability to look them up later